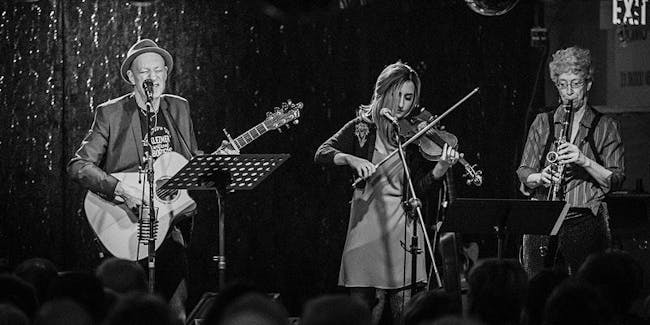 Swallow Hill Live – Presented by 105.5 The Colorado Sound
Hal Aqua and The Lost Tribe
,
$0.00
Free livestream. Click artist name for details.
On Facebook Live
Join Hal Aqua and the Lost Tribe on Facebook Live at 6pm, presented by 105.5 The Colorado Sound!
For more details and to access the livestream, click HERE.
Hal Aqua and The Lost Tribe play klezmer fusion music -- an exuberant musical experience, rooted firmly in traditional Jewish modes and melodies and driven by contemporary rhythms and danceable grooves.
The versatile musicians who make up The Lost Tribe have a deep respect for their source material, from the evocative tunes of Eastern European Jews and Gypsies to the sinuous rhythms of the Middle East and Mediterranean. In the long-standing Jewish tradition of absorbing musical inspiration from surrounding cultures, The Lost Tribe steeps their songs in a broth spiced with rock, reggae, funk and blues influences, serving up an irresistible party vibe. The band includes Hal Aqua (vocals, guitars, mandolin, octave mandolin), Annie Aqua (violin, vocals), Ben Cohen (electric and acoustic bass, tuba, accordion, vocals), Michael Paff (drums and percussion), and Miriam Rosenblum (clarinet, tin whistle, recorders).
Venue Information: