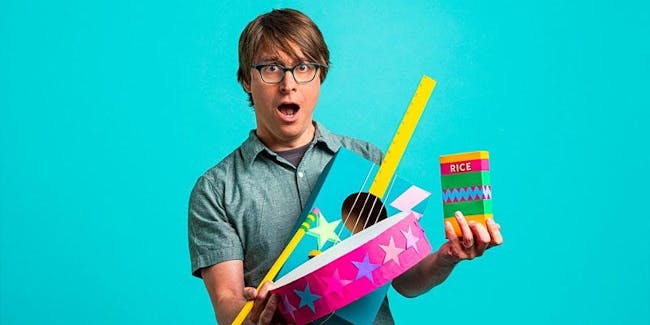 Swallow Hill Live – Presented by 105.5 The Colorado Sound
Justin Roberts
,
$0.00
Free livestream. Click artist name for details.
On Facebook Live
Join Justin Roberts on Facebook Live at 6pm, presented by 105.5 The Colorado Sound!
For more details and to access the livestream, click HERE.
Three-time GRAMMY Nominee Justin Roberts is truly one of the "all-stars" of the indie family music scene. For nearly 20 years, Roberts has been creating the soundtrack to families' lives, helping kids navigate the joys and sorrows of growing up while allowing parents to remember their own childhoods. Along with his band, The Not Ready for Naptime Players, Justin has travelled the globe, from Hong Kong to New York, and Miami to Seattle.
His latest album, Wild Life, is his 14th album for families and his most personal project yet. Joined by an eclectic group of instrumentalists including pianist Lisa Kaplan (Eighth Blackbird) baroque cellist Anna Steinhoff, percussionist Gerald Dowd (Robbie Fulks), and vocalist Nora O'Connor (Flat Five, the Decemberists), Wild Life was inspired by the birth of Roberts' first child. It includes songs about anticipation, uncertainty, unconditional love and advice for a life well-lived. The lyrics are honest and fresh with a hint of darkness that speaks not only to the journey of parenthood but the vast gamut of the human experience."
Venue Information: