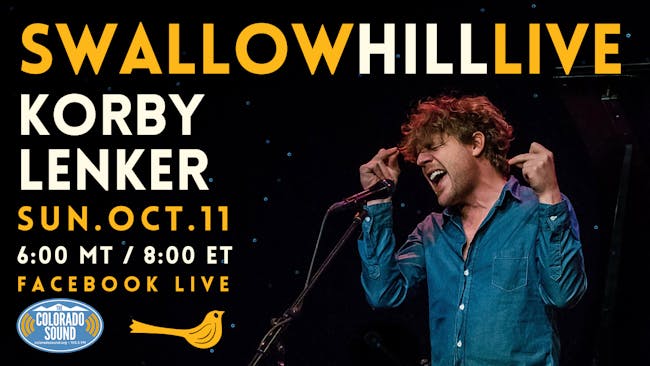 Swallow Hill Live – Presented by 105.5 The Colorado Sound
Korby Lenker
,
$0.00
Free livestream. Click artist name for details.
On Facebook Live
Join Korby Lenker on Facebook Live at 6pm, presented by 105.5 The Colorado Sound!
For more details and to access the livestream, click HERE.
Idaho-born, longtime East Nashville resident Korby Lenker takes a lot of chances. He's long been a heavy-touring, award-winning singer-songwriter; in 2015, he added published author to his resume, and now, as creator and star of scripted series MORSE CODE, Korby has thrown his knack for compelling, meaningful storytelling up onto the screen.
His live shows swing between a whisper and a shout, prompting tastemaker roots mag No Depression to note: ""One of the most striking things about seeing Lenker perform is his relationship with his guitar. He doesn't just play it, he becomes it - or, maybe, it becomes a part of him."
And his approach to making records is, well, unorthodox. Lenker recorded his latest batch of songs in his native Idaho, in various places important to him as a child - the Snake River Canyon, Craters of the Moon, in a small cabin north of Sun Valley. Letting the natural landscape set the tone, he recorded during the day and slept in a tent at night. The result, Thousand Springs, earned, among other accolades, a 4 star review from MOJO Magazine, who dubbed his effort "Scintillating songwriting from a travellin' man."
Lenker is funny. For evidence, look no further than his video Unfortunate Peer Review, in which his friends (luminaries like Rodney Crowell, Kenneth Pattengale from the Milk Carton Kids, Mary Gauthier and many more) lovingly skewer Lenker's music and personality.
Venue Information: