Mollie O'Brien & Rich Moore
Mary Flower
Swallow Hill Music - Daniels Hall
Denver
,
CO
$26.00 - $28.00
Sales Ended
Doors at 7:00pm, Show at 8:00pm. All sales are final.
Long time musical compadres Mollie O'Brien, Rich Moore and Mary Flower have made much music together. During their 40 years of friendship their musical odysseys have taken them individually and collectively down the road, from swing to blues to folk to country. Along the way they've formed a lifelong empathic path, where their songs and friendship lead the way to an unforgettable evening of great music.
All three met during the very beginnings of Swallow Hill Music in the early 1980s, when concerts were performed in the likes of small rooms such as The Monastery and the Cherry Creek Art Gallery. Since that time, O'Brien, Moore and Flower have become notable for their work on the national and international stage, while still finding themselves beloved right here in Denver where they each got their start.
Grammy winner, Mollie, and Rich are known as incredibly gifted interpreters of the canon of American popular music who know how to tackle a song and make it seem like their own creation. Multi-award winner Mary is a hugely influential blues artist who is ever evolving into new creative territory. All three of them are considered national musical treasures.
Mary is touring in support of her latest release Livin' With The Blues Again, which offers a cross section of her favorite numbers from her live repertoire. Living Blues says it's "a superb album that aptly demonstrates that Mary Flower is one of the foremost practitioners of fingerpicking acoustic blues.....and one of the great preservationists of the Piedmont style".
Mollie and Rich will be showcasing new songs from their latest venture into the world of ballads and beyond. As renowned songwriter Gretchen Peters says about Mollie and Rich "it takes serious talent to sing and play this effortlessly."
Mollie O'Brien & Rich Moore
Website | Facebook | Twitter | Youtube
Mollie O'Brien and her husband, guitarist Rich Moore, have for nearly 30 years quietly made it their mission to find, mine and reinvent other artists' songs.
They are geniuses at the craft of interpretation in the way that great singers, since the beginning of popular American music, have made the songs of their era their own. As songwriters they add their own tunes to the canon of American roots music they inhabit and show us they're completely at home with their musical selves. Grammy winner Mollie has long been known as a singer who doesn't recognize a lot of musical boundaries, and audiences love her fluid ability to make herself at home in any genre while never sacrificing the essence of the song she tackles. She is a singer at the very top of her game who's not afraid to take risks both vocally and in the material she chooses.
Rich, while known to produce some of the funniest onstage running commentary, is also a powerhouse guitar player who can keep up with O'Brien's twists and turns from blues to traditional folk to jazz to rock and roll. He creates a band with just his guitar and, as a result, theirs is an equal partnership. Their latest release is Love Runner on Remington Road Records.
Mary Flower
Website | Facebook | Twitter | Youtube
Mary Flower's immense finger picking guitar and lap-slide prowess is soulful and meter-perfect, a deft blend of the inventive, the dexterous and the mesmerizing. Her supple honey-and-whiskey voice provides the perfect melodic accompaniment to each song's story.
An internationally known and award-winning picker, singer/songwriter and teacher, the Midwest native relocated from Denver to the vibrant Portland, Oregon music scene in in 2004. She continues to please crowds and critics at folk festivals, teaching seminars and concert stages domestically and abroad, that include Merlefest, Kerrville, King Biscuit, Prairie Home Companion and the Vancouver Folk Festival, among many.
A finalist in 2000 and 2002 at the National Finger Picking Guitar Championship, a nominee in 2008, 2012 and 2016 for a Blues Foundation Blues Music Award, and many times a Cascade Blues Assn. Muddy Award winner, Flower embodies a luscious and lusty mix of rootsy, acoustic-blues guitar and vocal styles that span a number of idioms—from Piedmont to the Mississippi Delta, with stops in ragtime, swing, folk and hot jazz.
Flower's 11 recordings, including her four for Memphis' famed Yellow Dog Records—Bywater Dance, Instrumental Breakdown, Bridges and Misery Loves Company —show a deep command of and love for folk and blues string music. For Flower, it's never about re-creation. Her dedication to the art form is a vital contribution to America's music.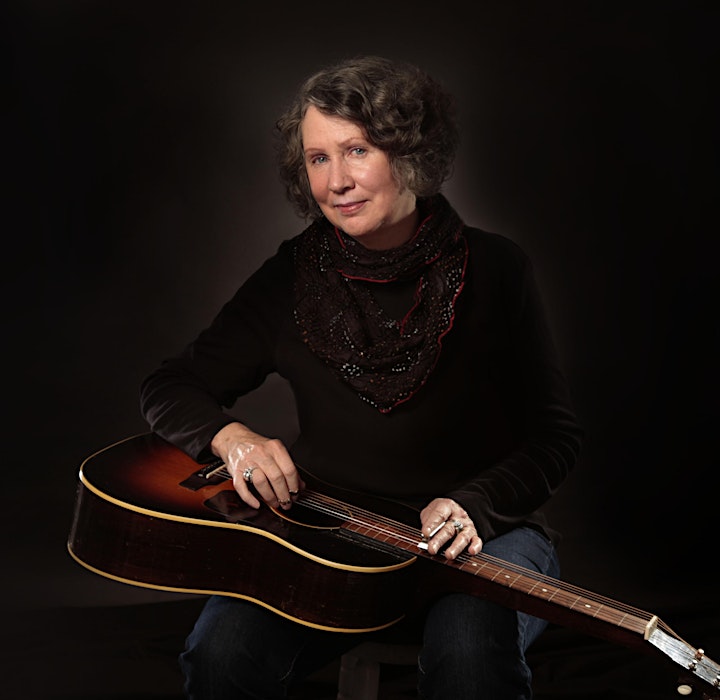 Venue Information:
Swallow Hill Music - Daniels Hall
71 East Yale Ave
Denver, CO, 80210