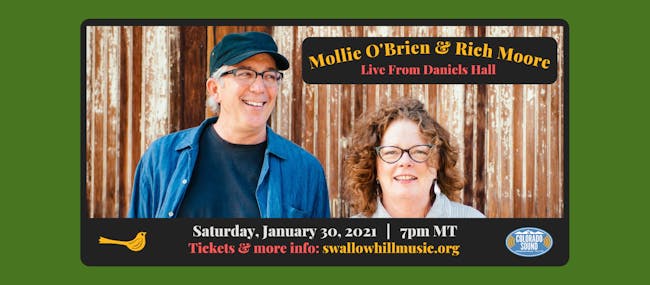 Presented by 105.5 The Colorado Sound & Torch And Twang
Mollie O'Brien & Rich Moore
,
Join Mollie O'Brien & Rich Moore for a livestream, broadcast from the Daniels Hall stage!
We are excited to announce that Mollie O'Brien & Rich Moore will perform in Daniels Hall at Swallow Hill on Saturday, January 30. As we are still not hosting live audiences at Swallow Hill, the concert will be streamed online for home viewing.
The stream will be available for replay viewing for the 72 hours following the show.
Ticket Options
Single Ticket ($20) Includes:
Intended for single viewing includes (1) entry into livestream concert.
Group Ticket ($30) Includes:
Planning on watching with family or friends? This ticket is for you!
Intended for group viewing on one device includes (1) entry into livestream concert
To access member pricing, enter member promo code during checkout.
After purchase, you will have access to the Online Event Page. Closer to showtime, check there for more details on how to access the livestream.
Mollie O'Brien & Rich Moore
Website | Facebook | Twitter | Youtube
Mollie O'Brien and her husband, guitarist Rich Moore, have for over 30 years quietly made it their mission to find, mine and reinvent other artists' songs.
They are geniuses at the craft of interpretation in the way that great singers, since the beginning of popular American music, have made the songs of their era their own. As songwriters they add their own tunes to the canon of American roots music they inhabit and show us they're completely at home with their musical selves. Grammy winner Mollie has long been known as a singer who doesn't recognize a lot of musical boundaries, and audiences love her fluid ability to make herself at home in any genre while never sacrificing the essence of the song she tackles. She is a singer at the very top of her game who's not afraid to take risks both vocally and in the material she chooses.
Rich, while known to produce some of the funniest onstage running commentary (and he'll try his best via streaming), is also a powerhouse guitar player who can keep up with O'Brien's twists and turns from blues to traditional folk to jazz to rock and roll. He creates a band with just his guitar and, as a result, theirs is an equal partnership.
The couple has released four albums together, including Daughters, which features their daughters Brigid and Lucy Moore. And Rich has just recently released a solo EP Voiceless, a collection of 7 instrumental pieces recorded while quarantined. For more information, and to purchase any of Mollie & Rich's albums, visit www.mollieobrien.com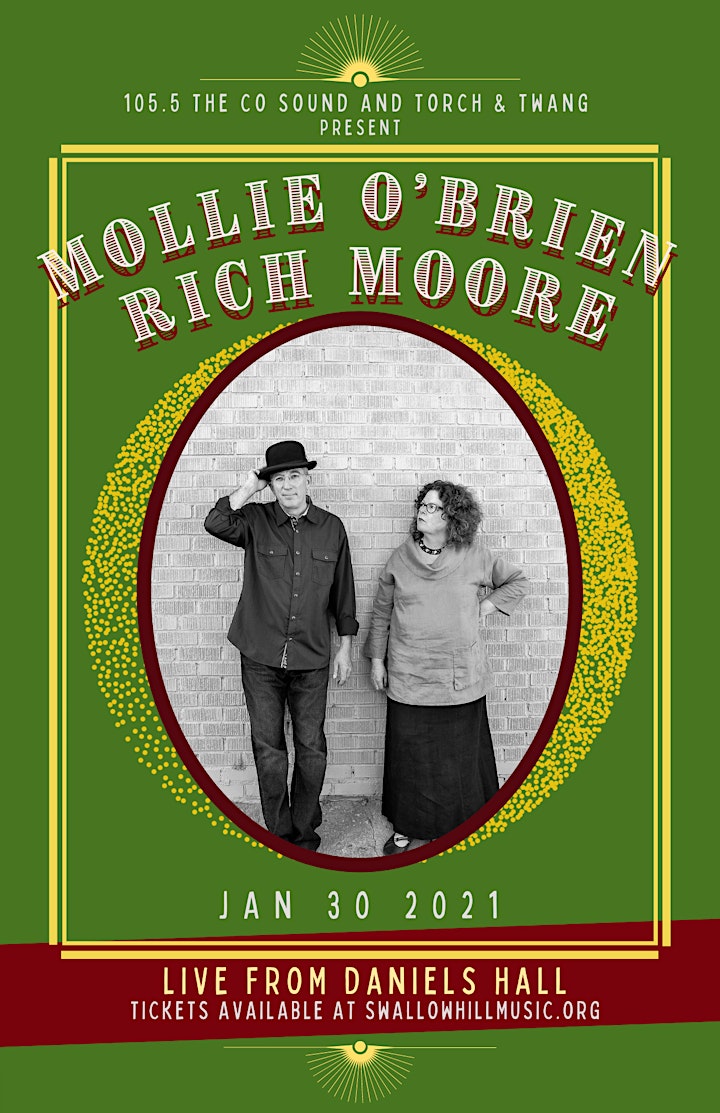 Venue Information: