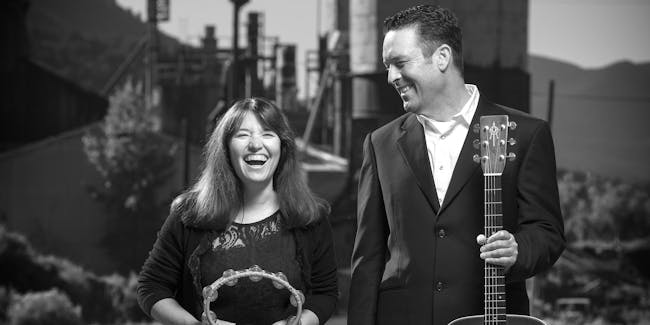 Pint & A Half
Swallow Hill Music - Four Mile Historic Park
Denver
,
CO
$5.00 - $13.00
Sales Ended
Doors at 6:00pm, Show at 6:30pm. All sales are final.
Website | Facebook | Instagram | Video
"...a serrated and poignant storytelling team." "The husband-and-wife duo have quickly gained access to full alt-country credentials"- Journal of Roots Music, No Depression, 2017
"A balanced and virtually impeccable work"- "Boomtown Ghosts", Planet Country, 2018
Rooted in Salida, CO and Truth or Consequences, NM, and led by songwriter Duke Sheppard (guitar, vocals, harmonica) and Tami Sheppard (vocals, percussion), Pint & a Half's music rings out with memorable melodies, expansive vocal harmonies and lingering rhythms that celebrate the colorful tradition of folk, blues and country music and expand the group's larger-than-life sound. Pint & A Half's sizzling chemistry and talent for personal storytelling simmers during their energetic performances. Pint & a Half are joined by stand-up bass player Jahil Bragassa and mult-instrumentalist Don Richmond of The Rifters and Tumbleweed fame.
Since their 2017 Howlin' Dog Records release "Boomtown Ghosts", Pint & a Half have toured the US extensively, and shared the billing with Americana favorites such as Michael Hearne, Shake Russell, Gabrielle Louise, Rapidgrass, and others. They've also found an enthusiastic audience on streaming services and community radio stations across the country, winning the "Best of 2017" album on the syndicated "Colorado Playlist", Top Ten albums on KDHX FM St. Louis' "Backroads", and People's Choice in the Southwest Indy Artist Awards, as well as multiple nominations in the 2018 Josie Awards in Nashville, Silver medal in the Global Music Awards contest, and others.
Committed to making meaningful music, Pint & a Half return to the studio in February 2019 to work with legendary Colorado producer Don Richmond on their second Howlin' Dog Records release, "Not to Forget", with a target date of May 2019. They will follow the release with a tour of the western states throughout June and into July.
FAQs
WHAT TIME DO THE CONCERTS START?
Doors open at 6:00 pm. Music starts at 6:30.
HOW CAN I BUY TICKETS?
Tickets are available in advance at swallowhillmusic.org or by calling 303.777.1003. You can also purchase tickets day-of. The box office opens at 5:30pm on the day of the show.
ARE THE CONCERTS OUTSIDE?
Yes. Four Mile Historic Park's Shady Grove is a General Admission lawn, with plenty of room to spread your picnic blanket!
WHAT IF IT RAINS?
It is a rain or shine venue, and the show goes on until we determine there is a threat to anyone's safety. Feel free to bring an umbrella just in case!
CAN I BRING MY OWN FOOD?
Yes.
CAN I BRING OWN ALCOHOL?
Yes.
WILL THERE BE ICE CREAM AVAILABLE FOR PURCHASE?
Of course. The evening wouldn't be complete without the delicious (and organic!) Em's Ice Cream.
CAN I BRING MY DOG?
No.
CAN I BRING A CHAIR?
Yes. Bring a chair or blanket!
IS FOUR MILE HISTORIC PARK HANDICAP ACCESSIBLE?
Yes.
ARE THERE RESTROOMS AVAILABLE?
Yes, the restrooms are located in a building behind the stage area.
Thank you to our sponsor, The Washington Park Profile!

Venue Information:
Swallow Hill Music - Four Mile Historic Park
715 S Forest St.
Denver, CO, 80246