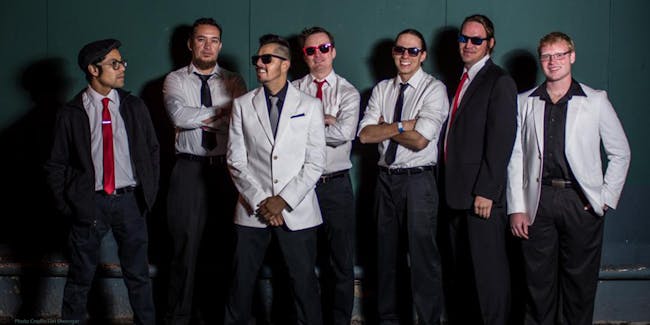 Free event. Music starts at 6pm.
Website | Facebook | Twitter | Instagram | Video
Roka Hueka (Row-Kah-Way-Kah) is Denver's premier Latin Ska band. Born in 2014, its members originate from Mexico, El Salvador and the US. Roka Hueka's music draws on influences such as Cumbia, Funk, Reggae, Soul, and traditional Ska.
Roka Hueka has been named one of the Top Ten Latino bands in Colorado and has been featured on the cover of Westword Magazine. The band is known for extremely high-energy performances and has a diverse and passionate following.
Roka Hueka has shared the stage with international ska and reggae legends:
The Slackers (New York City)
Panteón Rococó (México)
Rabanes (Panamá)
The Wailers (Jamaica)
Inspector (Mexico)
Gondwana (Chile)
Toasters (New York City)
Ceci Bastida (Mexico)
Roka Hueka has performed at the region's major venues:
The Bluebird Theatre
La Rumba
The Marquis Theater
The Gothic Theater
Ophelia's Electric Soapbox
Walnut Room
The Aggie Theater
Denver Cinco de Mayo Main Stage
Levitt Pavilion
Roka Hueka releases:
En Vivo (2014 EP)
Red (2016 LP)
Skank It! (2017 single)
Hasta El Tope (2018 single)
Te Voy a Olvidar (2019 single)
Venue Information:
The Riverfront Concerts at Commons Park
2101 15th St.
Denver, CO, 80202