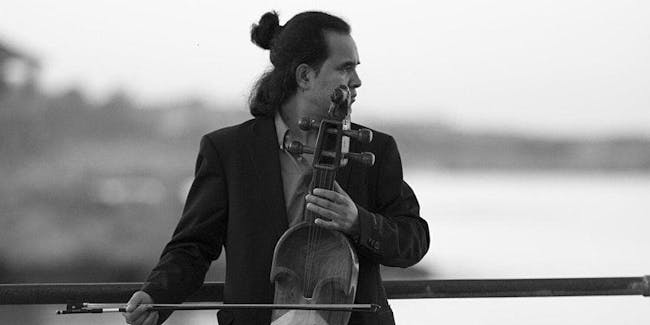 Swallow Hill Live – Presented by 105.5 The Colorado Sound
Shyam Nepali
,
$0.00
Free livestream. Click artist name for details.
On Facebook Live
Join Shyam Nepali on Facebook Live at 6pm, presented by 105.5 The Colorado Sound!
For more details and to access the livestream, click HERE.
Hailing from the centuries old Gandharba musical tradition of Nepal, Shyam Nepali has enjoyed an almost 30 year long career bringing the sounds of the Sarangi to audiences around the world. Shyam has filled a very unique and important role in the Sarangi tradition of Nepal, expanding on the work of his Grandfather, Magar Gaine, and his father, Ram Sharan Nepali, legendary Sarangi players who broke new ground on the world of Sarangi playing, with their technical and artistic innovations to the instrument. Shyam's son, Prince Nepali, is continuing the tradition of innovation and virtuosity in this beautiful tradition.
Shyam's creative and virtuoso musicianship has allowed the traditional sound of the Sarangi to travel in new directions musically, whether it's blending the traditional folk music of Nepal with other musical styles or paving an entirely new path with new sounds through creative musicianship and improvisation. His virtuosity and musicianship allows him to fearlessly expand the Sarangi's expressive capabilities with every note.
Shyam can be heard on over 49 recordings, and has performed with artists such as sitar Maestro Dhrubesh Regmi, Pramod Upadhaya, Atul Gautam, flutest Mones Singh, Sufi legend Madan Gopal, Cellist Frank Behrende, Patti Smith, Tenzin Chogyal, and Abigail Washburn.
Performance venues include Brooklyn Raga Massive, Rubin Museum of Art, City Winery, Grey Fox Bluegrass Festival (New York), Berklee Performance Center, Boston University, Massachusetts Cultural Council (Boston), Forde International Festival (Norway), Jazzmandu Festival, Gurukul Theatre (Nepal), Louvre Museum, (Paris), Bishkek Global Mountain Summit (Kyrgyzstan).
Shyam is an important teacher and mentor of the next generations of Sarangi players, working with Project Sarangi in Nepal, and the Imagine Rainbow Project (Switzerland/Nepal), aimed at fostering self-empowerment through the creative arts, and keeping the tradition alive. Shyam founded the Himalayan Heritage Cultural Academy in Boston, MA, giving a much needed platform for Nepali folk music and dance to be taught in the USA. Shyam has taught and mentored the newest generation of Sarangi players and folk musicians including members of the Nepali supergroups Kutumba, Sakchyam, Nayan, Manda, Lakchya, Shree Tara, and Lakhay.
Awards and recognition of his significant contribution to Nepali folk music and the Sarangi around the world include the Mah Kwah Cha award from the government of Nepal, the Governor's Citation from the Commonwealth of Massachusetts, honorary consulate, Italian Embassy in Kathmandu. Shyam is fluent in Italian, English, Newari, Nepali, and proficient in Japanese and French. Shyam received a Teaching Artist Grant for 2018-2019 from the Massachusetts Cultural Council.
Venue Information: