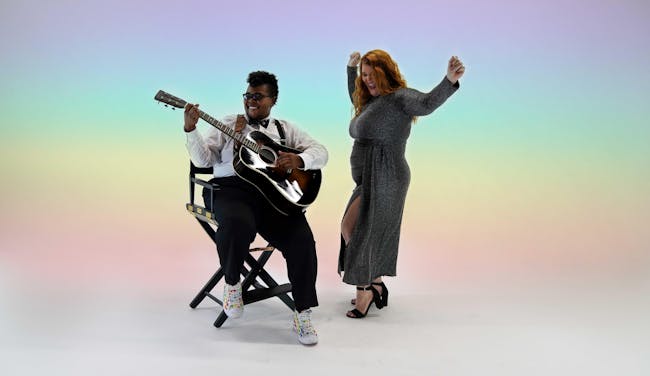 Singing Out Tour Feat. Crys Matthews and Heather Mae
Swallow Hill Music - Daniels Hall
Denver
,
CO
All sales are final.
Award-winning singer-songwriters Heather Mae and Crys Matthews are joining forces once again to spread their message of social-justice, hope and love from coast to coast as The Singing OUT Tour, a celebration of LGBTQ+ Pride. Mae, whose evocative vocals and rhythmic piano style call to mind artists like Stevie Nicks and Sara Bareilles, creates intoxicating and unforgettable music inspired by her own personal experiences as a queer, plus-size woman living with Bipolar Disorder. Matthews, a powerful lyricist whose songs of compassionate dissent reflect her lived experience as what she, a black, lesbian, butch-identified woman, lightheartedly calls "the poster-child for intersectionality," has been called "the Woody Guthrie of our generation." Mae and Matthews will again be joined by JJ Jones (formerly of Girlyman) and her "kinetically charged" percussion. "Soul-feeding" and "amazing" is the way fans described last year's tour and, with both artists celebrating new releases ("Glimmer" from Heather Mae and "These Old Hands" from Crys Matthews), the 2020 edition of The Singing OUT Tour promises to be even more impressive.
Crys Matthews
Crys Matthews is nothing if not ambitious. In August 2017, she simultaneously released both a new full-length album, The Imagineers and an EP, Battle Hymn For An Army Of Lovers. These collections showcase two sides of Matthews' dynamic songwriting; The Imagineers is a selection of thoughtful songs about love and life while Battle Hymn For An Army Of Lovers tackles social justice themes. Songs from both projects have already won her recognition and awards. She was one of ten finalists (from a pool of 5,000) in this year's NewSong Music Competition and, after performing at Lincoln Center on November 30th, she was named grand-prize winner. Matthews also won the People Music Network's Social Justice Songs contest at the 2017 Northeast Regional Folk Alliance.
Heather Mae
Website | Facebook | Instagram | Twitter | YouTube

Unfazed by what a typical pop artist today is "supposed" to look like and how the typical pop artist is "supposed" to sound, Heather Mae, an award-winning songwriter whose evocative vocals and rhythmic piano style call to mind artists like Stevie Nicks and Sara Bareilles, creates intoxicating music that tackles complex topics surrounding mental health, LGBTQ+ issues, self-love, racial injustice, social inequality, and women's rights. Inspired by her own personal experiences and identities - a queer, plus size woman living with Bipolar Disorder - and those of her multifaceted fans with whom she has forged connections throughout her many years of touring across the United States, Mae crafts powerful lyrics and unforgettable music about life's moments--from the quietly chaotic to the explosive.

Venue Information:
Swallow Hill Music - Daniels Hall
71 East Yale Ave
Denver, CO, 80210