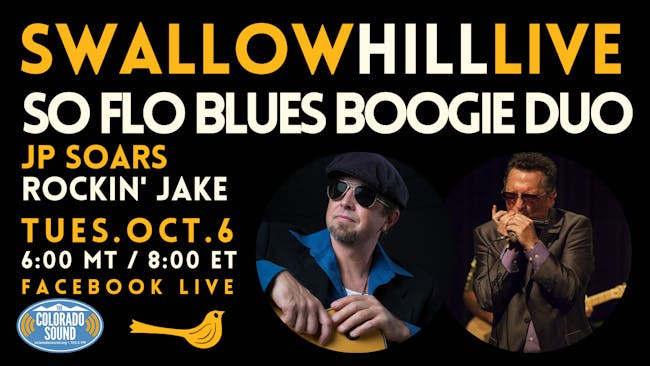 Swallow Hill Live – Presented by 105.5 The Colorado Sound
So Flo Blues Boogie Duo Featuring JP Soars and Rockin' Jake
,
$0.00
Free livestream. Click artist name for details.
On Facebook Live
Join So Flo Blues Boogie Duo Featuring JP Soars and Rockin' Jake on Facebook Live at 6pm, presented by 105.5 The Colorado Sound!
For more details and to access the livestream, click HERE.
JP Soars
Soars got bitten by the blues bug via a legendary source in 1988, when he won a guitar and two tickets in a raffle to see B.B. King in concert. Meeting the iconic guitarist and singer further enhanced the young musician's quest to learn more about the timeless power of the music. Soars started his blues recording career a decade ago with the 2008 release Back of My Mind, followed by More Bees With Honey (2011) and Full Moon Night in Memphis (2014). Collectively, his catalog has received extensive airplay on the XM Radio programs of Little Steven ("Underground Garage") and B.B. King ("Bluesville"); Top 50 status on the "Living Blues" charts, Blues Music Award nominations for "Best Contemporary Male Blues Artist of the Year," and "Best Blues CD" and "Album of the Year" accolades from the Palm Beach Post.
A gritty and expressive vocalist, Soars elicits signature tones from hollow-body guitars, plus a home-made two-string cigar box guitar for his incendiary slide guitar playing. All of which has helped him earn dates at the Baltic Sea Festival in Germany, the Liberation Day Festival in Holland, and other shows in France, Switzerland, Luxembourg, Austria, and Colombia as well as road work throughout the United States and Canada.
In the past two years, Soars and the Red Hots have also played the Peer Blues Festival in Belgium, sharing the stage with Buddy Guy, Joe Bonamassa, Brian Setzer, and Larry Graham, and the Mississippi Delta Blues Festival in Caxias do Sul, Brazil before 10,000 people. After being discovered by the Brazilian festival's presenter while playing with his "Gypsy jazz" project at a South Florida venue, Soars and company played the side stage in that format, then headlined the main stage with full blues intensity at its ninth annual event.
Rockin' Jake
Five-time winner of Off Beat Magazine's coveted Best of the Beat New Orleans Music Awards for best harmonica player, Jake has been hailed by many as one of the premier harmonica players in the country.
His original sound is a hybrid of second line, swamp funk, blues and zydeco, with influences from Paul Butterfield, Big Walter Horton, James Cotton, The Meters, WAR, J. Geils Band, Clifton Chenier and the Fabulous Thunderbirds.
A truly hard working musician with extraordinary talent, Rockin' Jake and his band pour out their souls in every performance with high energy and electricity which consistently brings the audience to their feet.
In his spare time, Jake managed to snare some culinary kudos in New Orleans, taking the trophy for "Best Barbequed Brisket" at the 1999 New Orleans Musicians Barbeque Competition, and launching his own line of signature hot sauce: "Badmouth…man it's hot!" Just like the band! Jake also takes time to give back to his New Orleans community with the Project Prodigy Music Camp for children as well as the Blues in Schools Programs in NO and other cities in the US. Widely known as a touring juggernaut among his peers, his schedule of over 200 performances a year include clubs, concert venues, and festivals.
Venue Information: