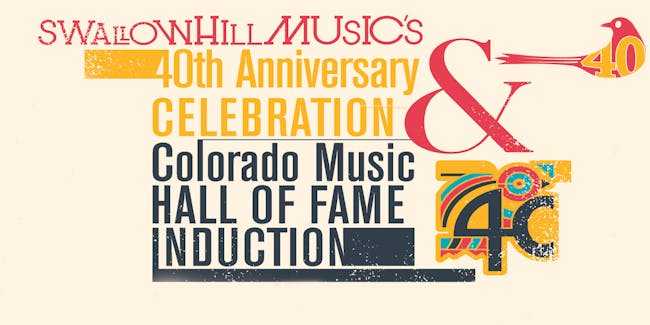 Swallow Hill Music's 40th Anniversary Celebration
The Mother Folkers, Dick Weissman, Tribute to Walt Conley
Swallow Hill Music at Central Presbyterian Church
Denver
,
CO
$40.00 - $150.00
Sales Ended
All sales are final.
Come celebrate 40 years of Swallow Hill! The evening will begin with Swallow Hill's induction into the Colorado Music Hall of Fame, alongside The Mother Folkers, Dick Weissman, and Walt Conley (posthumously). To cap off the night, The Mother Folkers will perform a special reunion concert. Don't miss a night of honoring our folk roots and kicking off the next chapter in Swallow Hill history.
The Mother Folkers
The Mother Folkers, or MoFos, began in 1973, when several women musicians realized they all had followings, and that by combining to perform a show, they might be able to have fun playing music to larger audiences. A Mother Folker concert will feature a few songs with everyone on stage; most of the show is a dynamic and evolving combination of performers and musical styles. Suitable for all ages, there is truly something for everyone in shows that bring audiences to their feet. Superb musicianship, tight vocal harmonies, humor, and powerful original songs make for an evening of complete entertainment.
The Mother Folkers you can expect to see:
Ellen Audley
Liz Barnez
Bonnie Carol
Angie DeFrancis
Mary Flower
Julie Hoest
Ellen Klaver
Rebecca Leonard
Barb Morris (Davidson)
Suzy Nelson
Eileen Niehouse
Mollie O'Brien
Bonnie Phipps
Pamela Robinson
Deborah Schmit-Lobis
Carla Sciaky
Sumi Seacat
Mary Stribling
Vicki Taylor
Joan Wernick (Nondi)
Dick Weissman
Musician, educator, and author, Dick Weissman participated in the 1950s Folk Revival in New York City, going on to perform in the folk pop trio The Journeymen. In 1972 he moved to Colorado, got a music degree, wrote numerous instructional books for banjo and guitar, and performed widely. After a stint in Portland, Oregon, Dick returned to Colorado where he continues to make music, perform, and teach.
Tribute to Walt Conley (performed by Jerron "Blind Boy" Paxton)
Walt Conley was a highly influential and pioneering figure in Denver and Colorado folk music beginning in the 1950s. He remained a musical force off and on until his death in 2003. A contemporary of The Smothers Brothers, Judy Collins, The Limeliters, and more, many consider Walt the "Grandfather of Denver Folk." Artists to be determined.
-------------------------------------------------------
40th Anniversary Concert Series
Swallow Hill turns 40 in 2019, and we are celebrating all year long.
Monthly concert events - including this one - feature beloved artists from Swallow Hill's storied history, as well as those who are leading us into our future. All of these artists uphold Swallow Hill's legacy of bringing Denver its favorite artists in folk, bluegrass, blues, Americana and the singer/songwriter community.
We look forward to celebrating with you!
-------------------------------------------------------
40th Anniversary Sponsors & Partners
A special thanks to our 40th Anniversary sponsors:
PCL
Schumacher Tax & Accounting
Alpine Bank
PSI
TRiUMPH Business Services LLC
Colorado Public Radio
Venue Information:
Swallow Hill Music at Central Presbyterian Church
1660 Sherman St.

Denver, CO, 80203