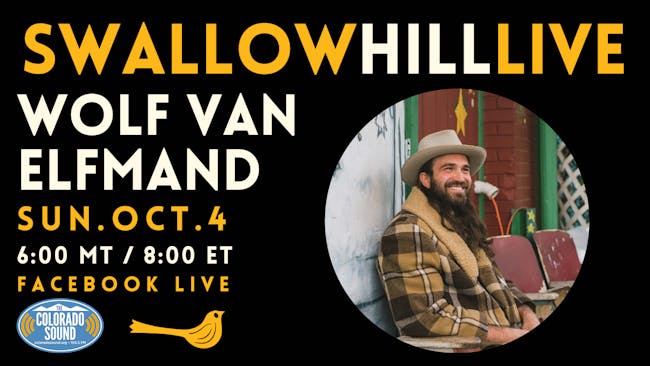 Swallow Hill Live – Presented by 105.5 The Colorado Sound
Wolf Van Elfmand
,
$0.00
Free livestream. Click artist name for details.
On Facebook Live
Join Wolf Van Elfmand on Facebook Live at 6pm, presented by 105.5 The Colorado Sound!
For more details and to access the livestream, click HERE.
Wolf van Elfmand makes new folk and strange country in the heart of Denver, Colorado. Uniquely original melodies and motives are enhanced with compelling lyrics over delicate finger-picking guitar. Some parts satire, some parts social awareness, Wolf draws in the crowd to laugh and listen. Wolf harnesses a personal voice in his songs while continuing to pay homage to American classics such as Randy Newman and Mississippi John Hurt. His latest release "Music for Minors (Ages 3 to 300)" is live and available worldwide.
Venue Information: